Looking for the Best Acupuncturist for Sciatica ?



Sciatic pain relief is one of the most frequent requests we receive at our Coral Springs and Tamarac clinics. Various studies are verifying the efficacy of acupuncture treatment for sciatica. 

With the majority of sciatica being caused by a herniated disk with nerve-root compression, it is important to not perform spinal acupuncture.
In TCM, sciatica belongs to the gallbladder meridian of the foot-Shaoyang, and the bladder meridian of the foot- Taiyang. GB30 and GB40 are important acupuncture points to stimulate for the elimination of sciatica pain. By removing channel obstruction acupuncture can increase the vital essence to circulate freely causing improvement in function.
By combining the wisdom of thousands of years of practical and applicable acupuncture techniques for sciatic pain relief, we would love to have the opportunity to put what we know into a practical understanding you can understand when you feel the results for yourself.
Here's what our patients are saying about us on Google Reviews about acupuncture
for sciatic pain relief:  
I went to Integrative Medicine when my pains became literally unbearable. Digestive problems, bloating, and intense sciatica-like pains that went all the way down my legs and felt super intense in the groin area… I was a mess. I had ONE treatment, and now the sciatica, the leg pains, the groin pains – ALL GONE. Completely. Digestive problems still surface here and there, but overall I can't say enough about how pleased I was after visiting the Tamarac office for Integrative Medicine and receiving quick and painless acupuncture, as well as an informative nutrition consultation and advice on implementing a daily stretching routine, which I now do religiously. Thank You, Integrative Medicine. I will be back, and I have already started recommending you to friends.
Click Below to See This Same Sciatica Review on our Google Listing: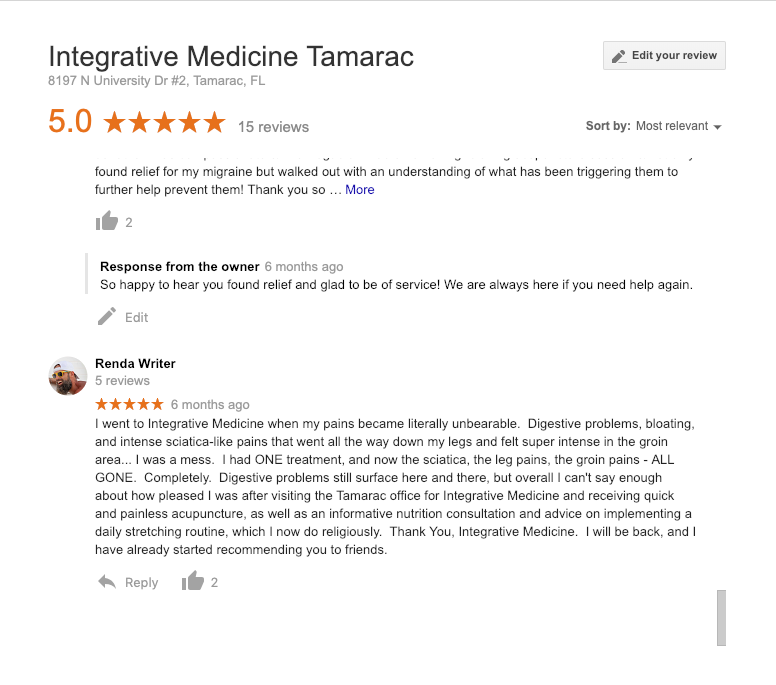 Best Natural Treatment for
Sciatica in Coral Springs
We empathize with our patients desire for utter pain relief from sciatica, and understand how difficult it is to live with constant chronic pain.  It is very difficult to get through a busy work week, while managing your sciatic nerve pain or spinal issues along the way.
This leads many people to resort to pain-killers, which doesn't eliminate the source of the pain, and can lead to more complications down the road. Complications that can lead to more symptomatic issues. Finding the best acupuncturist for natural and safe sciatica treatment should be a priority for your health.
There's a much safer and much more effective solution to sciatic pain. With acupuncture techniques that are rooted in centuries of tradition, Integrative Medicine can help you to develop a plan to heal your sciatic pain naturally.

No one deserves to live with chronic pain, and neither do you.
Call us now to book your first appointment.
We have locations in Tamarac as well as Coral Springs!
TCM Approach to Sciatica
Integrative Medicine Us- Coral Springs is so passionate about serving the local patrons of Tamarac, Coconut Creek and Plantation that need immediate pain relief from Piriformis Syndrome and many more debilitating health conditions that cause chronic recurrent pain.
Integrative Medicine's Doctor of Acupuncturist  brings a wealth of experience from proven methods tested over hundreds
if not thousands of years of verifiable alternative pain treatment strategies used by eastern physicians for centuries.
There are many needling-techniques that are effective for stimulating inhibitory nerve fibers which reduces the transmission of pain to the brain from the receptor site, as well as releasing analgesic mechanisms that secrete endorphins which is an endogenous opioid.
Chinese Medicine & Qigong for Sciatic Nerve Pain
The concern with western medical approaches to chronic sciatic pain is that there is a very limited scope of practice when it comes to the appropriate and approved list of treatment modalities offered by western medical physicians like Chiropractors, and western pain management specialists.
Because western medicine is focused around the study of disease, also known as pathology, then the only treatments that are commonly recognized by the western medical academia, pain being the most prominently noticeable symptom, are the prescribing of pain-killers, physical therapy and other methods of treatment that do not treat the cause.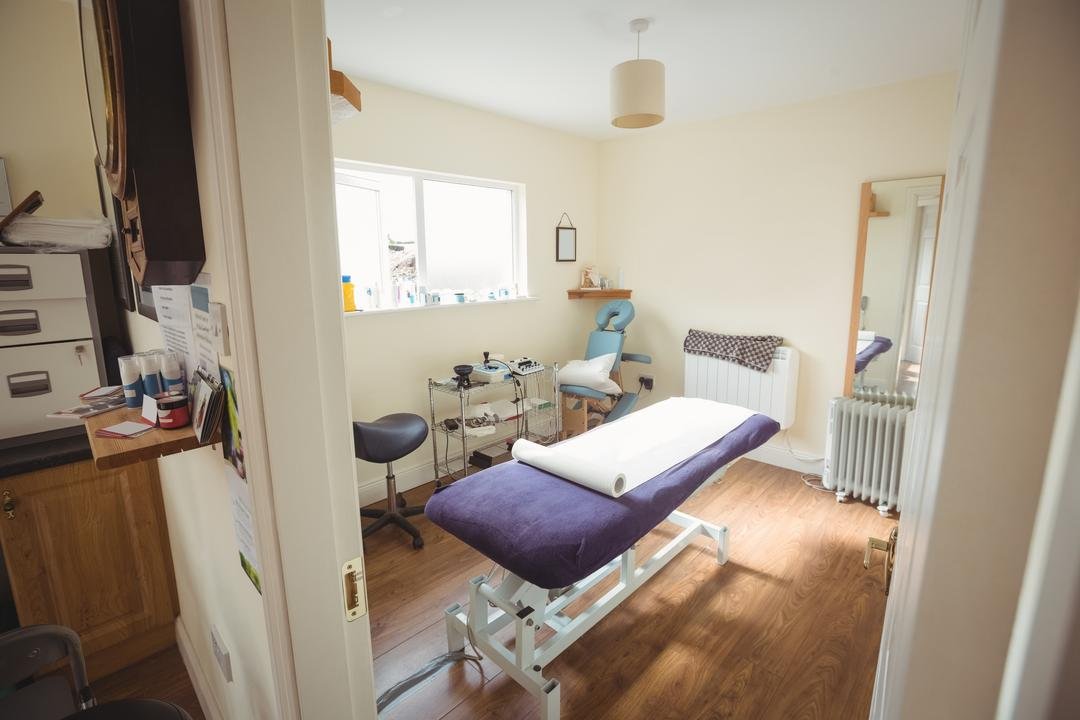 Beyond the chronic pain that we feel as a result of signals sent to us through our central nervous system, is an underlying systemic
disturbance that is usually caused by some sort of an inflammatory response, as well as oxidative stress on a cellular level.
Whether the pain localizes as sciatica down your leg, or the pain manifests as back pain the cause can be assessed through recognizing a series of patterns after observation of the patient through multiple sessions of acupuncture treatment.

Spinal health is also important. Our integrative approach to pain relief takes a quantum leap past the concept of conventional medical care by addressing the needs of the body beyond just spinal health. Though we completely understand and recognize the needs for good spinal alignment by offering exercises that eliminate bad posture to help improve the symmetry of the vertebral column.
We also understand the need to properly balance the major organs of the body that govern specific functions that are equally as important as the functions governed by the spine.By improving micro-circulation throughout the soft tissues surrounding the spine and vertebrae, our acupuncturists are confident that you will see and feel immediate improvements in not only your chronic pain, but also in your overall health.
Visit our new located acupuncture clinics in Coral Springs, Coconut Creek and Tamarac.
Start your complimentary assessment online now to learn more
about getting acupuncture for sciatica.
Please Click Below to Fill Out Form
If there is a health related question we can help you with then please fill out the form
below to get started on a complimentary online health assessment.