Instructor Jonathan M. Fields, of Integrative Medicine Coral Springs was recently honored to be the 1st person in the USA inducted into the Jun Mo Wing Chun Kung Fu External Instructor Training Program.
Wing Chun Kung Fu is a 300 year old style that was originally popularized by Bruce Lee in the 1970s. It has experienced a boom in recent years with the success and popularity of the Ip Man movie franchise starring Donnie Yen (Star Wars, XXX: Return of Xander Cage, Blade II). Ip Man 3 even starred the legendary Iron Mike Tyson. The real Ip Man was Bruce Lee's main influence and teacher in Hong Kong before his acting career took off.
Jun Mo Wing Chun Kung Fu is an official Ip Man Lineage named by Grandmaster Lee Shing and given to Sifu Joseph Man in London 1978. Lee Shing, was among Ip Man's top students and responsible for the spread of Ip Man Wing Chun in Europe.
The system was approved and made official in 1980 by Ip Chun, eldest son of Ip Man. Ip Chun was chairman of the Ip Man Athletic Assocation at the time.
Sifu Joseph Man has since passed in 2016 and is survived by his 3 daughters and top instructors, who are now running his family legacy.
Jonathan M. Fields, of Integrative Medicine Coral Springs, also teaches various styles of internal martial arts, traditional Chinese medicine healing modalities and therapeutic practices such as; Medical Qigong, Tai Chi, and Meditation.
In addition, he is a certified instructor in: Shaolin Kung Fu, Meihua Quan (Plum Flower Boxing), Sanda, Qin Na, and JuJutsu. In August of 2017, he will be making another journey to China to continue his Chinese Medicine studies for a couple months before returning home to his practice.
---
Pictures of Lost Legacy Systems Martial Arts Instructors Phoenix Le Grand & Jonathan M. Fields taking Jun Mo external instructor program training with Sifus Tresa Man (NYC) & Ma Dong Lei (London) in Columbus Park, NY in June 2017.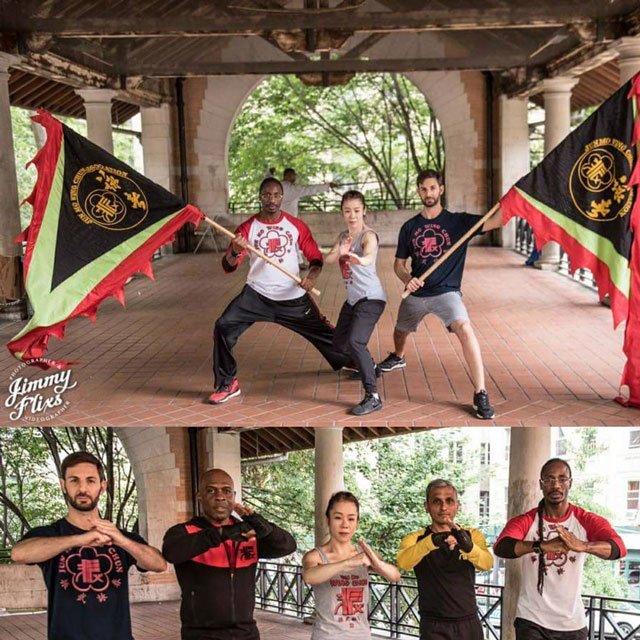 Jonathan M. Fields, Ma Dong Lei, Tresa Man, Narendra Minstry, John Phoenix Le Grand
Professional Photography by @JimmyFlixs | JimmyFlixs.com
For more info about South Florida Wing Chun in Coral Springs, visit:
---
Click here to find the:
best South Florida Acupuncture clinic
Integrative Medicine Coral Springs Wing Chun Kung Fu Instructor Training. We also offer Chinese medicine internal arts like Medical Qigong and Tai Chi.
Click here for,
Acupuncture in Coral Springs
---
For information about our upcoming Integrative Health Fair & Kung Fu Tournament sponsored by: Integrative Medicine Coral Springs, please click here.
---
Instructor Fields teaching Wing Chun in Coconut Creek Community Center in 2008. He was first introduced to Wing Chun concepts and techniques by Sifu John Phoenix Le Grand in 2004.